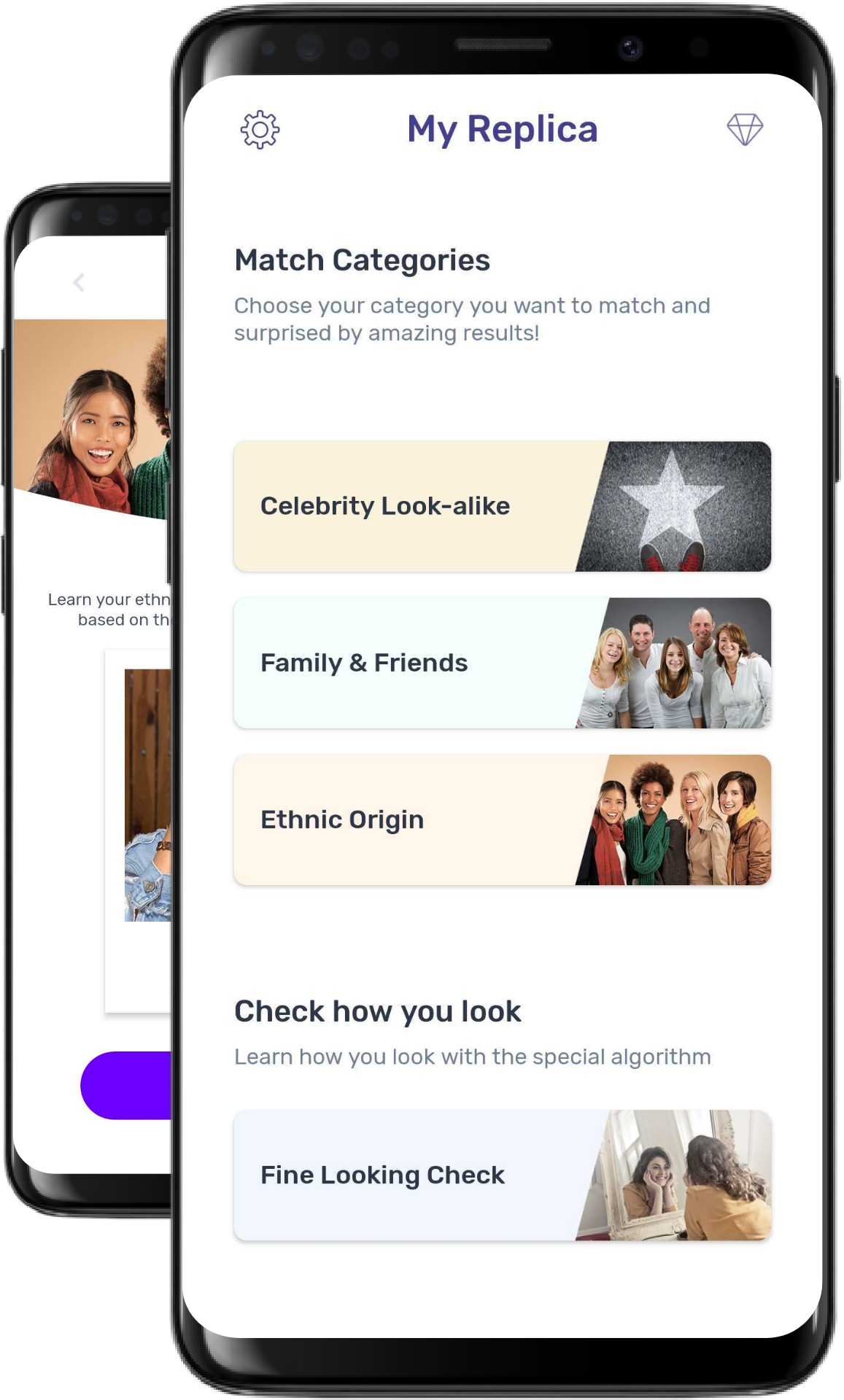 My Replica : Ethnic Origin, Celebrity Look-Alike
Find the answers to questions like which celebrity is my twin or doppelganger, celebs look-alike me?

Everybody has a gradient to the similarity to someone, family members, or friend. We know you are curious about what is the gradient of your similarity to a celebrity, ethnic origin, and physical characteristics and also how you look today...

Celebrity Look-alike My Replica : Ethnic Origin, Celebrity Look-Alike (face recognition) app makes you compare any face with the most popular celebrities.

It uses computer technology that identifies human faces in digital images and to Face Match with Celebrity, Find DNA Ancestry, Ethnicity Estimate, Fine Looking. This technology is compressed in a face similarity meter that calculates how similar you are to the person you choose.

Find what celebrity you look alike and compares your picture to several celebrities to find your magic face It is simple, fast, and fun - using real magic face (facial) recognition technology to analyze your face and features and compare to thousands of celebrities in dozens of categories.
Prayer Times Pro: Qibla Finder, Azan, Azkar, Dua
Companion or bro of a Muslim what he or she needs in all Islamic life, Muslim assistant. Salah (Prayer) is the most important commandment of Islam after faith; it is the pillar of religion and the cornerstone of Islam, therefore Muslims can pray wherever the time of a prayer is due.
Salah is the Ascension (Miraj) of the believer. Salah is the greatest guard. Salah ensures peace in the heart. Salah prevents humans from shameful and unjust deeds.
Namaz disciplines the life of a believer. Salah being a social deed of worshipping. Prayer includes all bodily worship and summarizes all of them.
Make Dhikrs with the Dhikr Counter as well. ".., for without doubt in the remembrance of Allah do hearts find satisfaction.